Why World Vision is in Peru
---
During the past 10 years, Peru's economy has grown steadily, but income inequity still leaves millions of children and adults living in poverty. In addition to economic concerns, Peru faces challenges in education, healthcare, and child protection. In 2015, the Peruvian government increased its spending on education, but 40 percent of schools still lack clean water, tutoring assistance, and computer facilities. World Vision's emphasis included reading initiatives and preschool education, in order to ensure that children get a strong start at school. In rural locations in Peru's Andes Mountains, over a third of children are chronically malnourished and anemic. We addressed these concerns through nutrition education demonstrations for parents and by providing immunizations and vitamins for children. Peru ratified an additional section of the Child Rights International Law in 2015 and adopted new legislation to protect children. In order to give children a safe place in which to learn, we opened neighborhood centers where kids can engage in reading, games, and activities. Teen leaders have been trained to run these centers, called Toy Libraries.
We never give up on people
World Vision child sponsorship looks at all the things that prevent children from surviving and thriving in their community, and then works with that community to bring all the pieces of the puzzle together to build a better life for all children. For sponsors, it's a personal way to show God's love to a child in need in a life-changing way.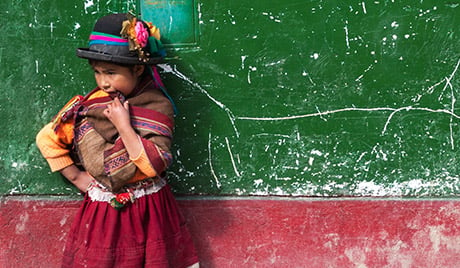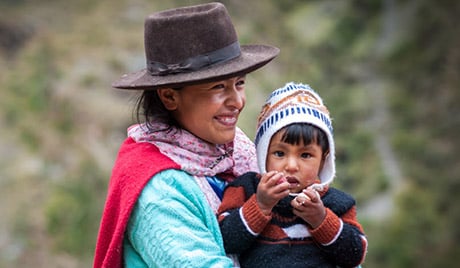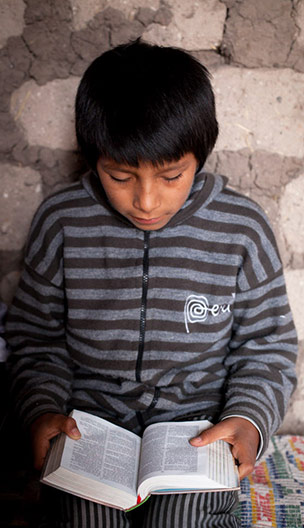 Progress in Peru
Thanks to the generous support of donors, we're making great progress toward the well-being of children and their families.
Child Protection and Care
Boys and girls are safe and valued, well cared for by their families, and participating in their communities as agents of transformation.
To ensure children are participating, we supported youth clubs and recreational programs where children can express their ideas and participate in advocacy activities.
We worked with community advocacy groups, community advocates, and protection networks to promote child rights and protection, as well as be able to identify and report cases of abuse.
Healthy Children and Families
Children and families are well nourished, protected from infection and disease, and have access to essential health services.
To improve child health and nutrition, we trained families with young children about healthy feeding practices, such as exclusive breastfeeding for the first six months and feeding toddlers a variety of nutritious foods.
To create healthy environments for children, we worked with families to create spaces at home where boys and girls can safely play and learn. Families also learned about healthy family relationships and preventing violence.
We supported local health partners to provide children with immunizations and vitamins, and conduct health monitoring to ensure healthy growth and development.
Education for Better Lives
Children have opportunities to learn and to develop their talents, young people are equipped for the future, and families and communities support children's education.
We supported new preschools and trained teachers on topics of early childhood development and strengthened their teaching skills.
To equip them for the future, youth were provided with opportunities to participate in vocational education and received business training in savings and finance.
To encourage reading and play, we equipped libraries in local schools with musical instruments, storybooks, math games, and other learning materials. We also educated families about ways they can support children's education.
Love of God and Neighbors
Children and families are growing spiritually, local churches are strengthened to demonstrate Christ's love in practical ways, and people are living at peace with their neighbors.
Relying on God's grace and Spirit, our local staff served children and families as a demonstration of God's unconditional love, seeking always to be faithful ambassadors of Jesus, the reason for our hope.
Prayer Requests from Peru
World Vision's staff in Peru are asking us to join them in prayer for the following:
Parent committees that oversee the Toy Libraries.

Rural families as they learn about treating malnutrition and diarrhea.
Enjoyed learning about Peru?
Now discover another country:

<!-DTM is turned off-->