Be a part of the solution to end the global hunger crisis


Children and families around the world are suffering unprecedented levels of hunger
You can make a life-saving impact for children and families suffering from hunger and starvation.
There is a lot going on in our world.
For the U.S., rising costs, unpredictable economic markets, extreme weather, and a global pandemic means increased costs.
In places like
Sri Lanka, Afghanistan, Honduras, Sudan
this will mean life or death.
50 million people in 45 countries are facing starvation,
and of those 50 million people,
22 million of them are children.
Parents in Afghanistan are already having to face the unimaginable choice of selling their children for food.
The number of kids at risk for starvation is equal to the combined populations of New York City, Los Angeles, Chicago, Houston, Phoenix, and Philadelphia.
Charitable giving has almost doubled since 2006.

People like Rooney, 7, from Montana who raised money to help kids across the world from her — she says, "Being generous and kind and living your life by taking care of the needs of others is important."
It takes all of us to make a difference with the resources we have.
Together, we can make a life-saving impact and be a part of the solution for those 22 million kids.
There is hope
There are 26 countries where 50 million people need immediate help that together, we can provide.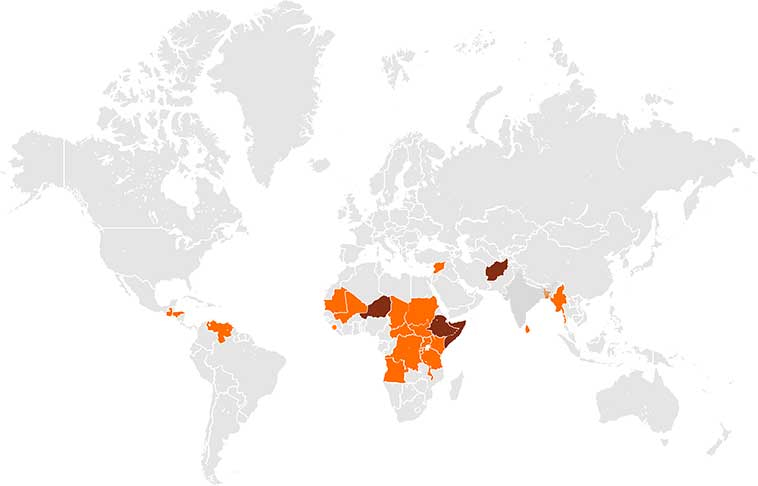 A proven approach with
89% recovery rate
Over the last 10 years, 89% of the severely malnourished children we treated made a full recovery.
Donate
*Thanks to donor contributions, combined with public grants from partnerships like USAID and World Food Programme, every $1 you donate to World Vision to relieve hunger delivers $5 in impact.