Why World Vision is in Tanzania
---
Though Tanzania's economy is growing, approximately 12 million Tanzanians remain trapped in poverty. Most people survive by farming, harvesting just enough food to get by. More than 35 percent of children under 5 have stunted growth due to malnutrition. We are helping Tanzanians move beyond subsistence farming and earn a living for their families. A key part of our approach is giving farmers and entrepreneurs an empowered worldview in which they know they are valued by God and can play a powerful role in their own stories. Equipped by our advocacy training, Tanzanians are looking for new ways to solve problems and create a better future for their children. In 2015 many communities took action, mobilizing their own resources and influencing the local government to make big changes in health, nutrition, and education—changes that will help children for years to come.
We never give up on people
World Vision child sponsorship looks at all the things that prevent children from surviving and thriving in their community, and then works with that community to bring all the pieces of the puzzle together to build a better life for all children. For sponsors, it's a personal way to show God's love to a child in need in a life-changing way.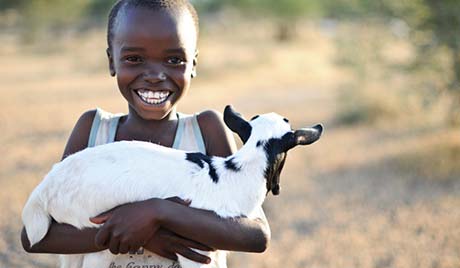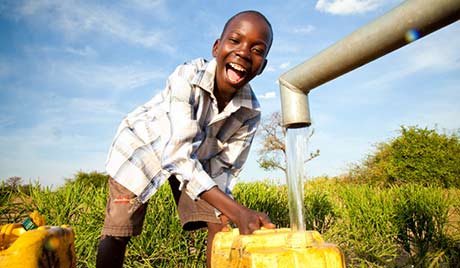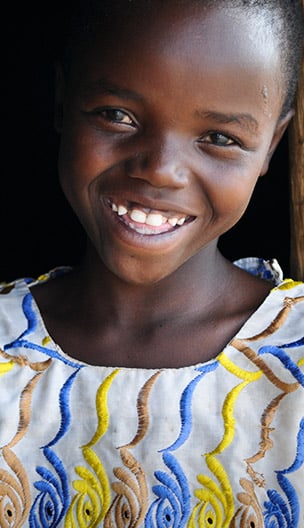 Progress in Tanzania
Thanks to the generous support of donors, we're making great progress toward the well-being of children and their families.
Child Protection and Care
Boys and girls are safe and valued, well cared for by their families, and participating in their communities as agents of transformation.
Community members established savings groups with our help, giving them access to basic financial services and empowering them to provide for their children.
To improve access to nutritious food, farmers were trained in ways to increase crop and livestock production.
We helped establish and strengthen child protection teams, trained adults in child protection issues, promoted birth registration, and celebrated child rights through events such as the Day of the African Child.
Through VisionFund Tanzania, we helped farmers learn basic financial concepts, including key principals of managing and borrowing money, to increase their ability to both save money and take out business loans.
We helped launch a program to train and assist lead farmers to produce high-yield crops on smaller pieces of land, learn improved irrigation technology, diversify their income, and teach their peers.
We trained sweet potato and rice farmers on comprehensive post-harvesting techniques, including processing and storage, and helped train women producer groups on improved methods for raising chickens and marketing eggs.
Healthy Children and Families
Children and families are well nourished, protected from infection and disease, and have access to essential health services.
Parents, health workers, and volunteers were trained in nutrition and food preparation for children and pregnant women to combat malnutrition.
We partnered with local health agencies to distribute Vitamin A supplements and deworming medication, promote immunizations, and to encourage parents to register for health insurance programs.
Health workers were trained in the prevention and treatment of illnesses including malaria, diarrheal diseases, and HIV, as well as strategies for effectively educating community members on these issues.
604 community members were trained on the importance of prenanatal care and HIV counseling and testing.
82 traditional birth attendants and influential community leaders learned about preventing transmission of HIV from mother to child.
Education for Better Lives
Children have opportunities to learn and to develop their talents, young people are equipped for the future, and families and communities support children's education.
School management committees were equipped with knowledge and skills to oversee schools and to strengthen the quality of early childhood education.
To improve the quality of teaching, we worked with teachers to strengthen their teaching skills and their ability to monitor children's reading, writing, and math learning.
Through advocacy efforts, we helped mobilize community members to provide materials and labor for school improvements such as teachers' houses, classrooms, and latrines, which we also supported.
We combat child labor in agriculture in by improving children's access to school and by increasing their families' livelihoods.
Prayer Requests from Tanzania
World Vision's staff in Tanzania are asking us to join them in prayer for the following:
Safety for albino children at risk of being killed for their body parts, which are thought by some to bring good luck. The Tanzanian government is working to bring to justice those responsible, but ritual killings of children continue.

Local pastors and leaders who are partnering with us to change hearts and discourage traditional practices that harm children.
News from Tanzania
From the Field

Ebola's long-term impact taking form of food shortages; Tanzania court rules against child marriage; Floods wreak further havoc on Bangladesh.

Enjoyed learning about Tanzania?
Now discover another country:

<!-DTM is turned off-->