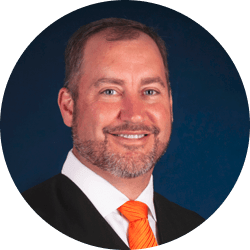 Chris Glynn
Senior Vice President, Transformational Engagement
Chris Glynn has a passion for how people work together. His desire is to see God glorified by the joy his team experience as they do this work as one body. In his role at World Vision, he ministers to his staff, leading and equipping them to serve most effectively in the kingdom of God.
Chris leads World Vision's Transformational Engagement division which comprises multiple teams including high net worth, institutional foundations, corporate, and planned giving fundraising. Transformational Engagement seeks to create dynamic partnerships that result in significant investments of time, talent, and treasure in order to facilitate impact in the lives of children, families, communities, our supporters, and ourselves.
Under Chris' leadership, World Vision launched two capital campaigns aimed at ending extreme poverty in our lifetime. The "For Every Child Campaign" raised $538 million from 2010-2015, impacting more than 25 million people in 19 countries in five key areas of work. The "Every Last One" campaign quietly began in 2016 with the purpose of reaching more than 60 million people by 2023 with life, hope, and a future. At the time of the public announcement in May of 2021, through the sacrificial generosity of amazing donor partners, more than $800 million dollars was already raised toward the $1 billion dollar goal!
"Each child, supporter, and staff member are uniquely made in the image of God, blessed with unique gifts, talents, and abilities by our Creator so they can glorify God and show His love to a broken world. A leader's role is to see the uniqueness of each individual and create the environment where each person can see the value of others and work together for His glory."
Chris Glynn
Senior Vice President, Transformational Engagement
Chris joined World Vision in 2010 after 25 years of for-profit leadership roles in sales, operations, customer service, and strategic quality management. Chris earned his MBA at Eastern Michigan University and holds a BBA from the University of Massachusetts Amherst.
He serves on the Board of Directors of World Vision's microfinance organization, VisionFund International. Chris and his wife, Chris, live in Auburn, WA and have two daughters: Hannah and Abigail.