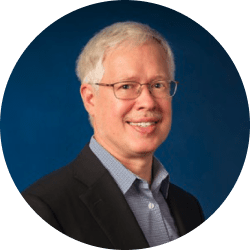 Doug Treff
Chief Financial Officer
Maximizing resources to equip kids and families to overcome poverty is Doug Treff's heartfelt purpose. As CFO, he champions the organizational core value that the resources at our disposal are a sacred trust from God through donors on behalf of the poor — especially vulnerable children.
Wise stewardship means not only maintaining supporter trust but also doing what's right in the eyes of God.
Financial accountability has been a hallmark for Doug throughout his career. He spent 20 years in top financial officer roles at Payless Holdings, Sears Canada, Deluxe Corporation, and Wilsons Leather.
He oversaw investor relations, external communications, information technology, legal services, and human resources. He continues to serve in the for-profit realm on the board of directors for Crocs. Doug earned an MBA from the University of Pennsylvania's Wharton School and a psychology degree from the University of Minnesota.
In addition to his corporate experience, Doug was uniquely prepared to become World Vision U.S.' CFO in 2016, directing finance and legal operations. He had served on the organization's board of directors. And as a donor to World Vision, his heart was already broken by firsthand experiences with the poor.
Doug and his wife, Pat, traveled to Kenya, Uganda, and Zambia with World Vision, where they became passionate about clean water, healthcare, education, and economic opportunities for vulnerable children and their families. The couple were members of World Vision's National Leadership Council, a community of Christians highly committed to supporting and advancing World Vision's work.
Doug and Pat have two children and live in Bonney Lake, Washington.