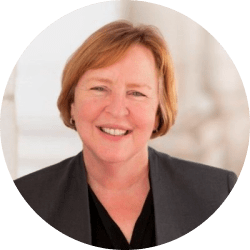 Margaret Schuler
Senior Vice President, International Programs Group
Margaret leads World Vision U.S.' Washington, D.C. office and manages the public donor acquisition efforts and a global public and privately funded portfolio of projects that work to improve the lives of vulnerable women and children around the world. She focuses her work on ensuring the highest technical quality across sectors and empowering and building resilience of communities and households. As a champion for World Vision's advocacy efforts, she has testified before Congress on issues affecting children and the poor around the world.
Margaret began her career in international development as a Peace Corps Volunteer in Tanzania, and she quickly realized that this was work she was called to do. She is a graduate of Washington State University and Ohio University where she earned a Masters Degree in International Affairs. Her career has encompassed living and working in developing countries with a variety of humanitarian organizations in addition to World Vision, including the International Rescue Committee, CARE and Save the Children.
"While living in Ethiopia for many years, I saw firsthand the deep needs of vulnerable families who struggled to provide for their children – a better life and hope for the future. I also witnessed how holistic investments that empower and engage families and communities could transform their lives, enabling children to flourish with dignity and the fulfillment of their rights. The work I do reflects my values and God's calling to do good in the world. I keep the Prayer of St. Francis—which compels us to offer God's love in practical ways—posted on my wall as a reminder of this."
Margaret Schuler
Senior Vice President, International Programs
Returning to World Vision in 2012, Margaret served as National Director in Ethiopia and Regional Leader in East Africa, strengthening the leadership of nine country offices.
Margaret and her husband, Tsegahun Tessema, who is from Ethiopia, have two children and live in Springfield, Virginia.