Why World Vision is in Honduras
---
Because of a prolonged drought exacerbated by El Nino, Honduras declared a national emergency in 2015. People were forced to start migrating in search of an income to pay for food. Approximately 170,000 children under age 5 are facing malnutrition and disease due to the lack of clean water in Honduras. Community volunteers, health staff, church leaders, and sanitation committees have responded by partnering with us to train families on treating water and practicing basic sanitation in order to improve the health and nutrition of children under 5. The key to combating poverty, hunger, and disease over the long term is to build household and community resilience. For example, at World Vision's Honduras Farming Field School adults and school children learn to optimize land resources and water for higher crop production, rather than burning the fields and cutting trees according to traditional farming methods. The new technology has led them to harvest cilantro, radishes, mustard, lettuce, tomato, squash, cabbage, carrots, and beets.
We never give up on people
World Vision child sponsorship looks at all the things that prevent children from surviving and thriving in their community, and then works with that community to bring all the pieces of the puzzle together to build a better life for all children. For sponsors, it's a personal way to show God's love to a child in need in a life-changing way.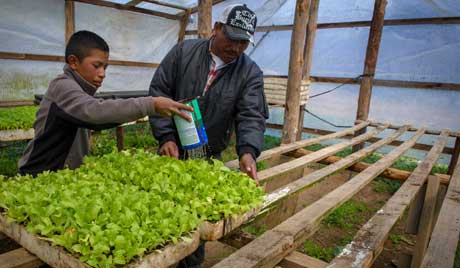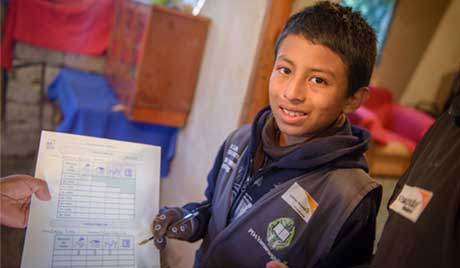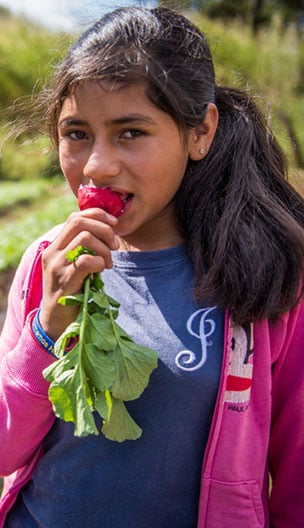 Progress in Honduras
Thanks to the generous support of donors, we're making great progress toward the well-being of children and their families.
Child Protection and Care
Boys and girls are safe and valued, well cared for by their families, and participating in their communities as agents of transformation.
To improve child protection during emergencies, we partnered with local organizations to train children on how to prepare for and respond to disaster situations.
We formed local child protection committees and children's networks and educated them on child rights, advocacy, and identifying and reporting violations.
Healthy Children and Families
Children and families are well nourished, protected from infection and disease, and have access to essential health services.
To decrease the incidence of waterborne illnesses for children, we joined with local partners to train families and sanitation committees on handwashing, personal hygiene, waste management, and community sanitation.
Together with local partners and health centers, we trained community health workers and mothers to improve the nutrition of children under the age of 5 by preparing nutritious meals using locally available ingredients.
Education for Better Lives
Children have opportunities to learn and to develop their talents, young people are equipped for the future, and families and communities support children's education.
To improve children's academic performance in basic subjects, we trained students to assist their classmates through peer-to-peer tutoring. This approach also builds relationships, responsibility, and leadership.
We collaborated with local partners to provide youth with vocational training in motorcycle repair, masonry, culinary arts, carpentry, and cosmetology so they could secure employment and contribute to family income.
Love of God and Neighbors
Children and families are growing spiritually, local churches are strengthened to demonstrate Christ's love in practical ways, and people are living at peace with their neighbors.
Our local staff served children and families as a demonstration of God's unconditional love, seeking always to be faithful ambassadors of Jesus.
Prayer Requests from Honduras
World Vision's staff in Honduras are asking us to join them in prayer for the following:
Families fleeing violence, who are forced to leave familiar surroundings and friends.

Children and youth to find hope in knowing their rights.
News from Honduras
From the Field
Donors, two communities, and World Vision worked together like a beautiful symphony to bring clean water to thousands of Hondurans.
Prayers
Join us to pray for Central America — for World Vision's work in the countries of Guatemala, El Salvador, Honduras, Nicaragua, and Costa Rica. In many areas of Central America, gang violence, drug trafficking, and the lasting effects of past wars make life especially difficult for children and their families.
From the Field

World Vision's photographers traveled around the world this year to tell stories of heartache and of hope. Here are our favorite photos from 2017.

Enjoyed learning about Honduras?
Now discover another country:

<!-DTM is turned off-->