Why World Vision is in Jordan
---
Refugees from the Syrian conflict are escaping into neighbouring Jordan. The United Nations High Commissioner for Refugees (UNHCR) reports that already more than 630,000 Syrians have sought shelter in Jordan—a number that is equal to one tenth of the country's total population. In response to the grave humanitarian situation in Syria, to support those directly affected by the conflict as well as the increasingly overburdened host communities, World Vision began responding to the escalating needs of Syrian refugees in Jordan in May, 2013. In April 2014, Azraq, a new refugee camp, opened in the north of Jordan, and World Vision planned, built and installed the largest part of the water and sanitation infrastructure of the camp and conducted hygiene awareness sessions in schools and kindergartens. Additionally, World Vision's programmes included drainage and road works, as well as diaper/winter clothing distributions at Za'atari Refugee Camp. The majority of interventions of World Vision Jordan are now in host communities.
We never give up on people
Millions of people have been forced to flee their homes due to violence: Families escaping fighting in Iraq and Syria, caught in the conflict in South Sudan, and trapped in other dangerous situations. More than half of these refugees and displaced people are children. You can help provide critical essentials like food, shelter, and safe places for children to play and learn.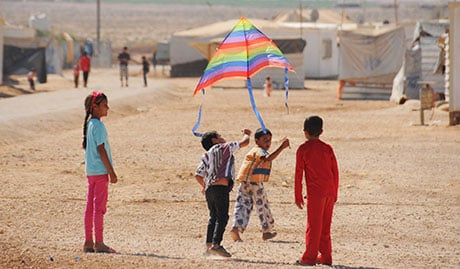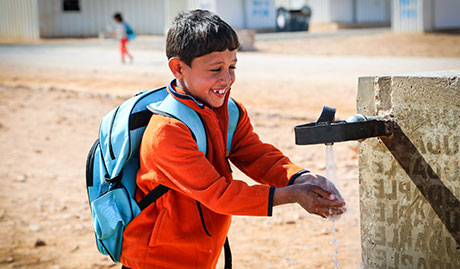 Progress in Jordan
Thanks to the generous support of donors, we're making great progress toward the well-being of children and their families.
Child Protection and Care
Boys and girls are safe and valued, well cared for by their families, and participating in their communities as agents of transformation.
Through school-based networks, including teachers, parents, and children, we strengthened awareness of children's vulnerabilities.
Healthy Children and Families
Children and families are well nourished, protected from infection and disease, and have access to essential health services.
World Vision continued its support to refugee camp infrastructure in Azraq and Za'atari refugee camps, including significant drainage, water supply system and sanitation infrastructure projects. We distributed hygiene kits, led hygiene promotion in schools and created community-led sanitation campaigns to improve living conditions for all. Through a 'handover' system, residents give new arrivals orientation on the facilities available as well as child-to-child hygiene messaging. We reached 36,084 people with water, sanitation and hygiene assistance, including 20,300 children.
Education for Better Lives
Children have opportunities to learn and to develop their talents, young people are equipped for the future, and families and communities support children's education.
We work with Little Thinking Minds to build an online early grade Arabic literacy learning platform with different reading levels supported by after school literacy clubs for students. (Funded by USAID and AusAID)
A successful model of integration and remedial learning for school-aged Syrian and Jordanian children has rolled out in 17 schools, helping nearly 3,000 children who might otherwise have dropped out of the school system due to poor results or difficulties transitioning to new systems. In 2014, the graduation rate from remedial classes was already considered high at 70 per cent; this year it has improved even further, to 75 percent.
Enjoyed learning about Jordan?
Now discover another country:

<!-DTM is turned off-->