Why World Vision is in Dominican Republic
---
In 2015, the Dominican Republic deported thousands of Dominicans of Haitian descent who were born and worked in the Dominican Republic their whole lives. In spite of international pressure to stop this process, the Dominican Republic forced these residents back to Haiti because they could produce no formal birth records. Life within the Dominican Republic is challenging, particularly in the areas of healthcare and child protection. In some parts of the country, HIV and AIDS has become the leading cause of death for teenagers and adults. So we renewed efforts to educate children, youth, and adults about HIV and AIDS and involve churches in awareness campaigns. Regarding the fact that over 60% of children encounter violence in their daily lives, World Vision Country Director David Coates reported that during 2015 a total of 8,397 children and adolescents participated in clubs or groups where they learned about their right to be protected from all forms of violence.
We never give up on people
World Vision child sponsorship looks at all the things that prevent children from surviving and thriving in their community, and then works with that community to bring all the pieces of the puzzle together to build a better life for all children. For sponsors, it's a personal way to show God's love to a child in need in a life-changing way.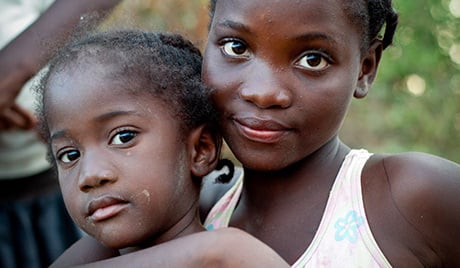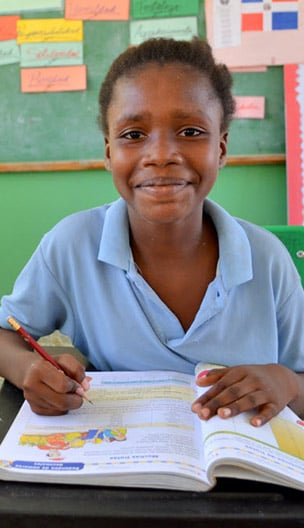 Progress in Dominican Republic
Thanks to the generous support of donors, we're making great progress toward the well-being of children and their families.
Child Protection and Care
Boys and girls are safe and valued, well cared for by their families, and participating in their communities as agents of transformation.
We strengthened youth networks so they could advocate for safe community spaces where children can play without fear of abuse or exploitation.
Vocational trainings in beekeeping, pharmacy, hair dressing, and accounting were provided to youth so they could earn income and help support their families.
To improve education and health services in their communities, leaders and youth were trained on Citizen Voice and Action (CVA). CVA is a World Vision program that educates citizens about their rights and equips them with a simple set of tools designed to empower them to protect and enforce those rights.
Healthy Children and Families
Children and families are well nourished, protected from infection and disease, and have access to essential health services.
We worked with teachers and local schools to provide tutoring programs for struggling students in reading, writing, and math, so they could pass their grade levels.
Community facilitators, parents, and guardians attended our trainings on good nutrition, preventing childhood diseases, hygiene, and sanitation in order to improve children's health.
Education for Better Lives
Children have opportunities to learn and to develop their talents, young people are equipped for the future, and families and communities support children's education.
To advocate as a group for improvements at schools such as teacher training and more textbooks, parents joined our Parent Teacher Associations.
Love of God and Neighbors
Children and families are growing spiritually, local churches are strengthened to demonstrate Christ's love in practical ways, and people are living at peace with their neighbors.
Our local staff served children and families as a demonstration of God's unconditional love, seeking always to be faithful ambassadors of Jesus--the reason for our hope.
Prayer Requests from Dominican Republic
World Vision's staff in Dominican Republic are asking us to join them in prayer for the following:
Churches offering parenting classes on raising children with tenderness.

Pregnant women to be tested for HIV and AIDS so they can prevent transmission to their babies.
Enjoyed learning about Dominican Republic?
Now discover another country:

<!-DTM is turned off-->